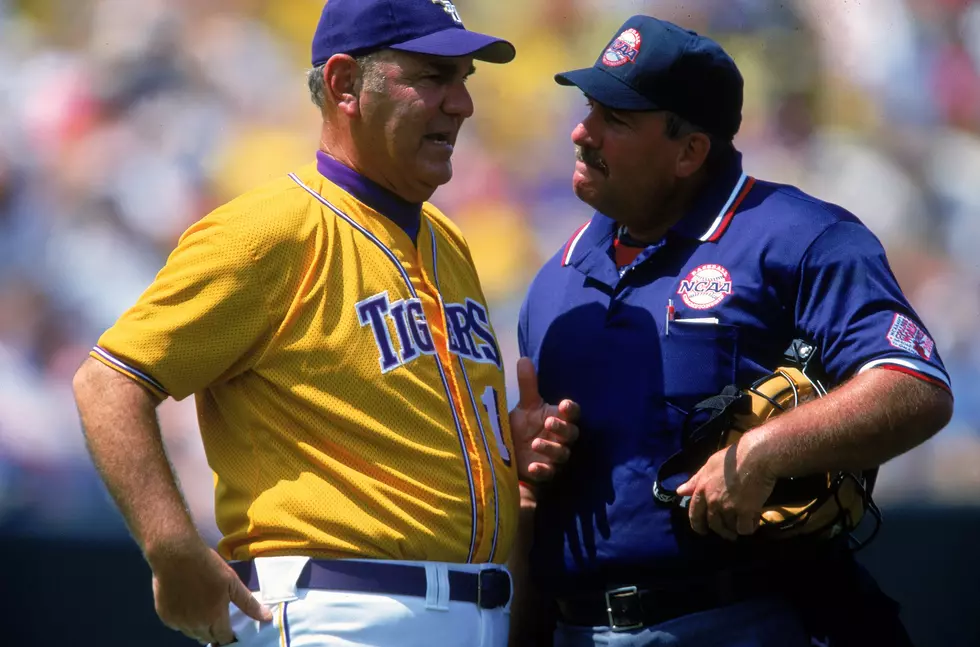 Legendary LSU Head Baseball Coach Skip Bertman Talks New Book, Tigers' Rise to Greatness
Andy Lyons / Allsport, Getty Images
LAFAYETTE, La. (KPEL News) - Skip Bertman is a larger-than-life figure in the world of college sports who put LSU baseball in Baton Rouge on the map. When the man speaks, everyone listens.
As a child of the 1990's, I watched Coach Bertman's LSU Tigers dominate college baseball, winning 5 College World Series titles from 1991 - 2000. In addition to the National Championships, Bertman led LSU to 7 SEC Championships. He was also awarded SEC Coach of the Year 7 times, Collegiate Baseball Coach of the Year 5 times, and Baseball America Coach of the Year 2 times. Bertman coached at LSU from 1984-2001 and amassed a coaching record of 870–330–3 before becoming LSU's athletics director in January of 2001.
How did he get to the top of the college baseball world and then sustain that success?
That was one of many questions asked by "The Voice of Louisiana" Moon Griffon as Bertman was driving into Grand Coteau on Friday for a book signing of the latest book to tell his story "Everything Matters in Baseball: The Skip Bertman Story," written by Glenn Guilbeau, an award-winning sports journalist who covered LSU baseball during Bertman's time there.
It was a great conversation between Griffon and Bertman as the legendary coach shared stories and spoke about the importance of being a good husband, father, and human being while maintaining greatness at the highest level.
Bertman also gave his thoughts on the importance of practice and weighed in on former LSU/current Alabama Head Coach Nick Saban. Griffon also asked Bertman a question that many of us often wondered about Bertman, "Did Major League Baseball try to lure you away?"
LOOK: MLB history from the year you were born
Stacker
compiled key moments from Major League Baseball's history over the past 100 years. Using a variety of sources from Major League Baseball (MLB) record books, the Baseball Hall of Fame, and audio and video from events, we've listed the iconic moments that shaped a sport and a nation. Read through to find out what happened in MLB history the year you were born.
LSU's Top QBs Not Named Joe Burrow
More From News Talk 96.5 KPEL