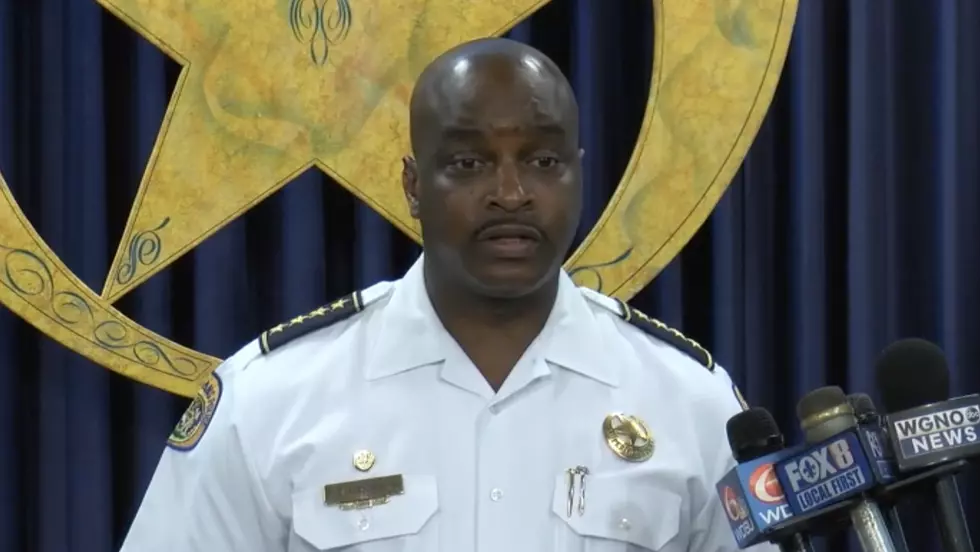 NOPD Officer Arrested on Accusations of Driving Drunk, Crashing into Multiple Cars While On Duty
WVUE
New Orleans police have a hard enough time policing the city, now they're having to deal with one of their own.
According to WAFB, a New Orleans police officer was "arrested last week on accusations that he was driving drunk while on duty." The officer, Denzel Millon, was allegedly driving his marked NOPD cruiser with a blood alcohol content more than twice the legal limit when he crashed into several vehicles in the Warehouse District.
Millon's BAC was .186 when he submitted to the breathalyzer test around 4 a.m. on Thursday, July 28. The state's legal limit to legally operate a vehicle is .08.
The officer was arrested and booked with DWI and driving on a roadway laned for traffic according to the WAFB report. During a press conference on Wednesday, NOPD Superintendent Shaun Ferguson publicly acknowledged the officer's DWI arrest for the first time while discussing other matters at police headquarters.
Ferguson seemed visibly aggravated while addressing what WAFB described as "a poorly kept secret in law enforcement circles." Reporters would have asked about the incident sooner, but apparently, roof damage has prevented them from accessing records about the DWI incident.
Ferguson seemed to defend the fact that the New Orleans Police department made no mention of the incident for the past week.
Unless you ask us, we don't just run and tell you. We don't have to report everything out like that. We're not required to do that. But, nevertheless, it's not anything that we're hiding, either. It's just something that happened and now we're telling you about it. As is standard procedure, he's reassigned, pending further investigation. He was arrested, he has his right to due process, but he will be reassigned pending this investigation.
Ferguson's body language remained irritated when he was pressed on NOPD's "apparent lack of transparency."
I don't agree with that. We have not done that in the past. We have never done that. I'm not sure if you're familiar with that, but we've never done that. But when asked, we acknowledge.
In the meantime, the New Orleans Police Department is dealing with the recent news that they currently have the fastest rising murder rate in the country as the city continues to deal with brazen crime on a daily basis.
An attorney representing Millon did not immediately respond to WAFB's call, but we will update this story when more information is available.
How Many in America: From Guns to Ghost Towns
Can you take a guess as to how many public schools are in the U.S.? Do you have any clue as to how many billionaires might be residing there? Read on to find out—and learn a thing or two about each of these selection's cultural significance and legacy along the way.
More From News Talk 96.5 KPEL