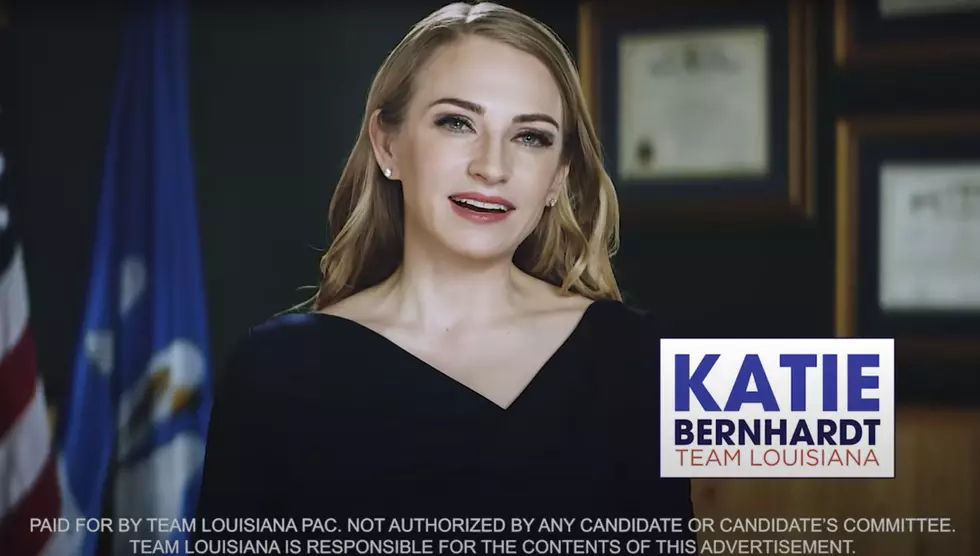 After Controversial, Viral Ad, Louisiana Democratic Chair Says She Isn't Running for Governor
Credit: Team Louisiana PAC Ad
LOUISIANA (KPEL News) - Despite an ad featuring here getting a lot of attention, Louisiana Democratic Chair Katie Bernhardt will not be running for governor, as previously assumed.
"I'm not running for governor or anything else right now," Bernhardt told the USA Today Network in a statement. "We're working to rebuild the Louisiana Democratic Party, which starts with fielding strong, capable candidates for statewide office."
Her decision may be due to the fact that the ad wasn't received very well by key figures of her own party, including former U.S. Senate candidate Gary Chambers. Nonetheless, she seems to be saying she will not be taking a hands-off approach in the race.
"We know how important this fall's election is, and we will stop at nothing to keep the governor's office and win down-ballot races," she said in that same statement.
Bernhardt's brief leadership of the state Democratic Party so far has been tough. During the 2022 Senate race, she was accused of telling Chambers a black man could not win a statewide race in Louisiana.
That prompted a big blowup, especially after the state party endorsed all three Democrats in that race, rather than just picking one - and Chambers claimed the party was poised to endorse him until Bernhardt intervened.
Then, after the Team Louisiana PAC ad came out, Chambers pushed back, questioning why she would throw her hat into the ring when another black man, Dr. Shawn Wilson, was poised to run.
Wilson, who serves as the Transportation Secretary under Gov. John Bel Edwards, is still expected to announce a run for this year's gubernatorial election.
But, with Bernhardt saying she is out of the race, that gives the Democrats a chance to solidify around one candidate like Wilson.
The Team Louisiana ad was not an official announcement of candidacy. In fact, had it been, it would have been a major campaign violation. Current election law states candidates and PACs cannot coordinate, and with her appearing in an ad by a PAC, it would have been a flagrant violation of that law had she announced her candidacy.
Instead, the ad was used to tout her and her ability to bring Louisiana residents together and was meant to be a rallying cry for Democrats across the state. However, it was seen as an attempt to raise her own profile ahead of an expected run for governor.
The History Behind Lafayette's Street Names
We drive them on a daily basis. Some are smoother than others. Some we use more frequently than others. Some randomly start, end, and/or change names. They're the streets of Lafayette. The names behind many of these streets have interesting histories. We take a look at where those names come from and the impact their namesakes have had on the city and the parish.
Lafayette Stores Your Parents Shopped At That Are Gone Now
I have been feeling very nostalgic lately, and when I get that feeling I often will browse the photos in the different collections on the Lafayette Memories Facebook page.
More From News Talk 96.5 KPEL