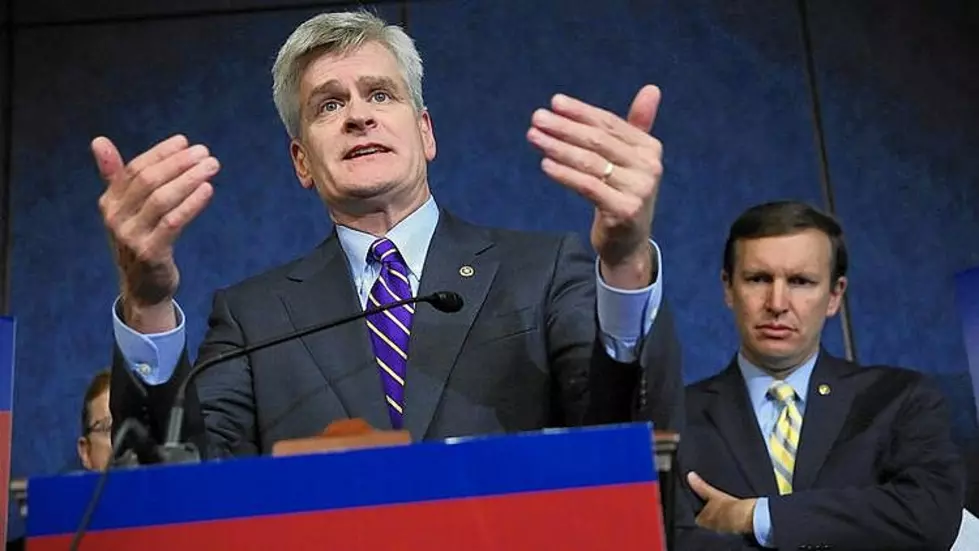 Moon Griffon Says He Was Wrong About Bill Cassidy as He Apologizes to This City
Photo-by-Alex-Wong-Getty-Images
"Today is Bill Cassidy day on the Moon Griffon Show," said host Moon Griffon as the theme to Gomer Pyle-U.S.M.C. played under him at the beginning of his show on Wednesday. Moon dedicated the show to the senior senator, who has made headlines across the nation for his vote calling the impeachment of former President Donald Trump constitutional.
"Bill Cassidy just knifed us all in the back!" exclaimed Griffon, referencing Cassidy's change in supporting Trump during the last election cycle to voting against Trump and his legal team on Tuesday. "He didn't even realize what he voted for. I'm convinced of it," Moon said as he referenced Cassidy's previous vote against the trial being constitutional nearly two weeks ago. Cassidy says his vote was swayed by strong arguments from U.S. House managers and by the "terrible job" done by Trump's team, who he says was "disorganized," "random" and "did everything they could but to talk about the question at hand."
Moon went on to call Cassidy "Psycho Bill" as he took calls from people who are frustrated with Cassidy's impeachment vote.
"Bill Cassidy is one of the most arrogant rear ends that I have ever seen in my life!" exclaimed Griffon. "He's a doctor and a good politician because he won. I knew better. I owe y'all an apology. I thought like everyone else, 'We've got to get Trump elected.' And I looked the other way. And I'm wrong."
Moon played commercials during the 2020 election cycle that featured Cassidy receiving high praise from former President Trump as his voting numbers were similar to Trump's in Louisiana on Election Day. Moon jokingly questioned if maybe Cassidy's Democratic challenger - Shreveport Mayor Adrian Perkins - should have been elected instead.
"If we would have elected Adrian Perkins as the Democrat, he would've voted the same way as Cassidy. So, we didn't lose anything there, right? And, we could have saved Shreveport from Adrian Perkins!" said Griffon as he apologized to the city itself.
A statement issued by the Louisiana Republican Party said they were "profoundly disappointed" in Cassidy and RPEC's across Louisiana, including Cassidy's home parish in East Baton Rouge are considering censuring Cassidy. But, Moon says, Republicans need to call for Cassidy to resign instead and "just ask him to register as a Democrat."
More From News Talk 96.5 KPEL