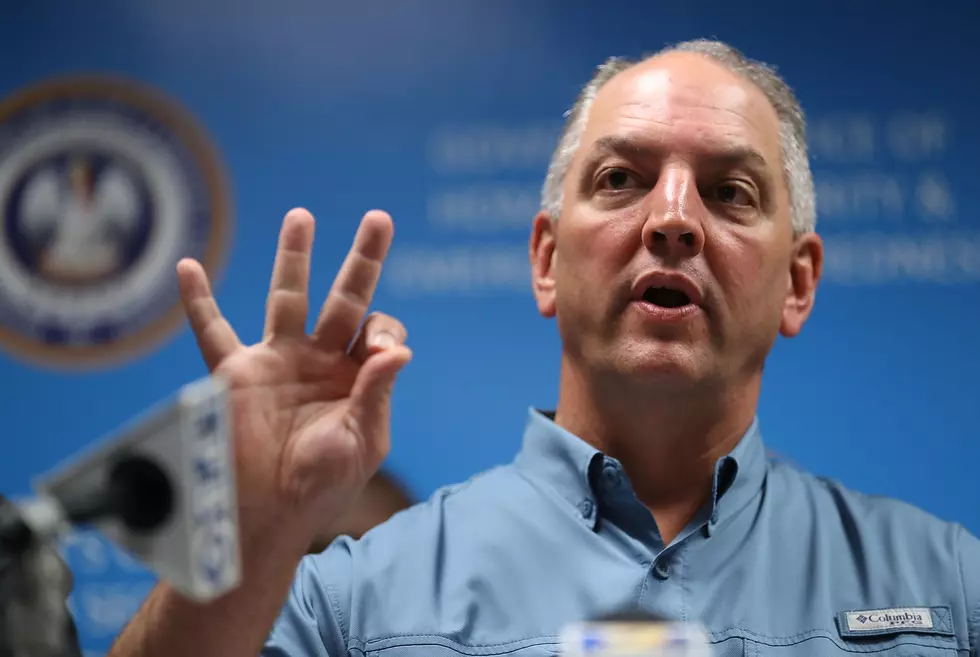 Edwards: 'Too Early to Know' When Louisiana Can Relax Orders
Photo by Joe Raedle/Getty Images
NEW ORLEANS (AP) — Louisiana Gov. John Bel Edwards says "it's just too early to know" when the state can begin loosening social distancing mandates.
He responded to a question Monday about President Donald Trump's eagerness to get reopen businesses shut down to prevent the spread of COVID-19. Edwards was speaking in Monroe after touring damage from Sunday tornadoes. He said rates of growth in serious coronavirus infections continue to improve. But he cautioned that there were signs that many residents did not stick to home on the Easter weekend. And he said social distancing must continue to avoid a spike in cases. Edwards says the Unacast Social Distancing Dashboard tracks movement by cell phone GPS data and Louisiana is not performing well.
"The state actually wasn't doing that well before, we had a C- and now we have D because there are too many people moving around," said Edwards.
The Governor says he's trying to set an example by wearing masks in public, and not doing his usual glad-handing with constituents, but that policy made his trip to the tornado-ravaged Monroe difficult.
"I saw some people in some homes that obviously were not going to be habitable but I chose not to stop and talk to them because of COVID-19. That is a very tough decision on my part," said Edwards.
A storm system tore through north Louisiana Sunday, leaving many still without power and crippling the Monroe Regional Airport.
Edwards says you need to stay indoors at least until April 30th. As to whether, or how the state will open after that, he's leaving it up to experts.
"We will be announcing later this week an economic resiliency recovery task force that we are going to stand up here in Louisiana that will advise me and local officials as well," said Edwards.
The number of Louisiana deaths related to COVID-19 now stands at 1,013. 
"Today's death count is the largest we have reported in a single day (increase of 129 deaths) since this COVID-19 outbreak started and it brings the number of Louisianans we have lost to more than 1,000," says Governor Edwards in a release sent to the press. "That's 1,013 people who are someone's mother, father, sister, or brother or child or aunt or uncle. They are our neighbors, friends and coworkers. They are more than just a number on a report or graph, and as our fellow Louisianans, we all grieve alongside their families. 
Our analysis shows that most deaths come 11.2 days after the onset of symptoms, which is why we must look at long-term data and trends. It is also why it is incumbent upon our people to follow the Stay at Home order, because just as the positive things we do now will save lives in the future, the negative things we do could threaten lives as well."
(The story was written by KEVIN McGILL/AP and Matt Doyle/Louisiana Radio Network)
."}" data-sheets-userformat="{"2":33555201,"3":{"1":0},"11":4,"12":0,"28":1}">
How can I stay safe while grocery shopping? And answers to 24 other coronavirus questions
More From News Talk 96.5 KPEL