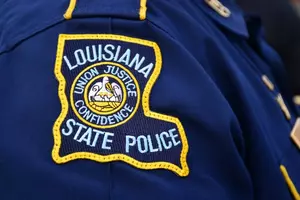 State Police: 7 Killed On Roads, A Deadly Start To Weekend
Louisiana State Police Patch, Facebook
BATON ROUGE, La. (AP) — Louisiana State Police say it's been a deadly start to the Memorial Day weekend on Louisiana's highways.
As of Saturday, state police say they investigated five fatal crashes that killed seven people.
State police say a two-vehicle crash in Chauvin, Louisiana in Terrebonne Parish killed two friends in one vehicle and a father in another one. That crash happened Friday at about 8 p.m.
State police say 52-year-old Lloyd Lecompte Jr. of Montegut was driving fast and crossed the center line and struck a pickup truck. Lecompte and his passenger, Paul Broussard, 50, of Chauvin, were killed. Eugene Rodrigue, 43, of Chauvin was killed while his family members were injured.
State police say another crash in St. Tammany Parish early Saturday morning killed 39-year-old Brent Dupree of Slidell.
Copyright 2016 The Associated Press. All rights reserved. This material may not be published, broadcast, rewritten or redistributed.
More From News Talk 96.5 KPEL