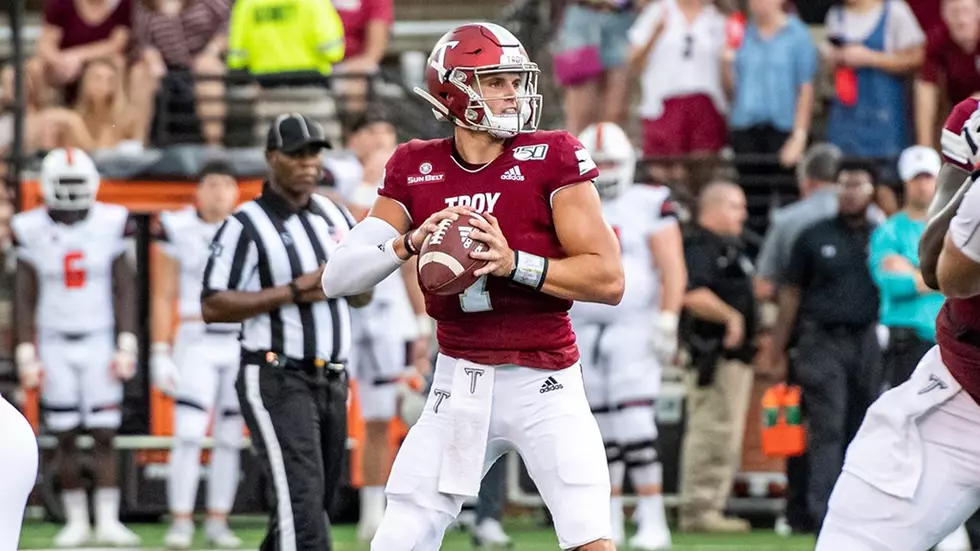 This Week in the Sun Belt – Week 3
sunbeltsports.org
The Sun Belt had one of its best weeks in history in week two, with a 7-2 record.
But this week, the league may come back down to earth.
Eight games are on tap this week.  Only three are favored and the underdogs are double digits.
ARKANSAS STATE (+33') AT #3 GEORGIA  11am, ESPN2--The Red Wolves are off an emotional win over UNLV with the return of Coach Blake Anderson after his leave of absence.  Georgia has asked fans to wear some sort of pink to honor Anderson's late wife Wendy.  Nice touch.
NORFOLK STATE (+27) AT COASTAL CAROLINA 1PM ESPN3--Coastal is off their first ever Power Five win (it's Kansas, but it counts).  They are favored to go to 2-1 on the year against this team from the MEAC in the first ever meeting between the two schools.
GEORGIA SOUTHERN (+13') at MINNESOTA 2:30 PM, BIG 10 NETWORK--We know the Eagles are better than what they showed against LSU.  We also know they can't be judged over last week's win over Maine.  We are going to get somewhat of a barometer this week.  The good news is, Shai Werts returned to practice this week, although he will not start.  GS has an open date next week before their league opener against Louisiana.
MEMPHIS (-19) AT SOUTH ALABAMA  2:30 ESPNU--The Tigers won last year's meeting 52-35.  The Jags certainly didn't embarrass themselves in week one against Nebraska and got a win over Jackson State last week.  Like Georgia Southern, we'll find out a little more about the Jaguars this week.
SOUTHERN MISS (+3) at TROY  5pm ESPN+--Troy opened with an FCS win and then had last week off and it's hard to get a real pulse on them under new head coach Chip Lindsey.  But the Trojan offense is very good and they do get the Golden Eagles at home.  This should be fun for the fans at Veterans Memorial Stadium.
GEORGIA STATE (+11') at WESTERN MICHIGAN--6:00 pm ESPN+--Second consecutive year the two teams have met.  WMU won last year's battle 34-15.  Georgia State is 2-0 for the first time in school history.  They avoided the trap game against a good FCS Furman squad last week.  Western is the best of the three directional Michigan schools.
TEXAS STATE (+17) at SMU  6:00 ESPN3--No wins yet for the Bobcats but everyone believes they are improving under first year head coach Jake Spavital.  They had the lead against Wyoming last week until a pick six in the third quarter turned the tables.  Surprisingly this is only the second time these two teams have ever met.  SMU has already beaten a Sun Belt school, taking down Arkansas State in week one.
TEXAS SOUTHERN (+47) at LOUISIANA--6:30, ESPN+--The Tigers have a new head coach in Clarence McKinney, a former Kevin Sumlin assistant at three schools.  He has a tough road ahead, coaching a school that hasn't had a winning season in 19 years and hasn't beaten an FBS or FCS opponent out of conference in 17 years.
More From News Talk 96.5 KPEL