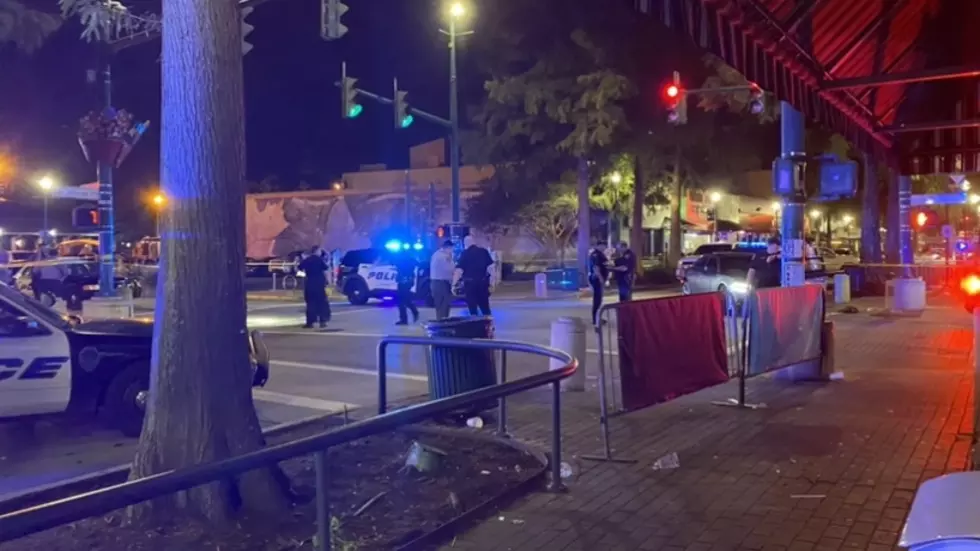 Reckless Driver Arrested After Running Over, Dragging Police Officer in Downtown Lafayette
Staff Photo
A Lafayette Police Officer is recovering after being run over and dragged by a reckless driver in Downtown Lafayette.
UPDATE: 10:06 a.m.
A press release from the Lafayette Police Department says that the suspect responsible for this early morning incident has been identified as 24-year-old Jaylin Chavis of Lake Charles, LA.
Mr. Chavis was booked into jail on charges of attempted first-degree murder, reckless operation of a vehicle, resisting an officer with force/violence, and OWI (first offense).
According to Sgt. Robin Green, officers attempted to stop a vehicle that was being operated recklessly in the 400 block of Jefferson Street. The attempted stop occurred around 1:20 a.m. when the driver attempted to flee the scene; only to run into a roadblock.
In a second attempt to evade officers, the driver put his vehicle in reverse. While attempting to flee in reverse the driver of the vehicle ran over a Lafayette Police Officer dragging him for approximately 100 feet.
Green says at that point, another officer fired rounds at the vehicle; finally getting the car to stop without anyone being struck.
The driver was taken into custody while the officer they ran over was transported to the hospital in critical condition.
As noted in the original story, there was a heavy police presence near the intersection of Garfield and Jefferson Street where Lafayette Police Officers were finally able to get the vehicle to come to a stop.
Since arriving at the hospital, the officer's condition has been upgraded and he is now considered stable for the time being.
A GoFundMe for the seriously injured officer has been set up by the Lafayette Police Association and can be found here.
ORIGINAL STORY
There is a heavy police presence in Downtown Lafayette following an incident that eyewitnesses say involves Lafayette Police officers.
Businesses in Downtown Lafayette were instructed by local authorities to shut down at roughly 1:30 a.m. following an incident.
See a photo of the scene at the intersection of Garfield and Jefferson in Downtown Lafayette.
UPDATE: 2:24 a.m.
There is still a heavy police presence in Downtown Lafayette following the incident. We are awaiting details from the Lafayette Police Department.
Caution tape is currently blocking off multiple blocks of Downtown Lafayette.
This story is developing...
10 of Louisiana's Weirdest Laws
More From News Talk 96.5 KPEL