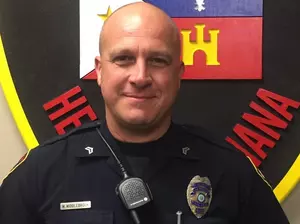 Lafayette Suspect Identified In Shooting Of LPD Officer
Corporal Michael Paul Middlebrook, photo from Lafayette Police Department
28-year-old Ian Paul Howard of Lafayette has been arrested after Sunday night's officer-involved shooting took the life of Lafayette Police Corporal Michael Middlebrook.
Howard has been arrested and booked into the Lafayette Parish Correctional Center on the following charges:
1 count of 1st Degree Murder of a Police Officer
1 count of Attempted Murder of a Police Officer
2 counts of Attempted Murder
Lafayette Police Corporal Karl Ratcliff, spokesman for the Lafayette Police Department, issued the following statement on behalf of the Lafayette Police Department after officer Michael Middlebrook was shot to death last night. The statement is as follows:
"On October 1st 2017, Corporal Michael Paul Middlebrook, a nine year veteran of the Lafayette Police Department, was killed in the line of duty. Corporal Middlebrook leaves to cherish his memory his wife, three year old daughter, two stepdaughters, and his parents.
Corporal Middlebrook was born in Thibodeaux, La. He spent the entirety of his career in the patrol section helping and truly serving the community, as was his passion.
The Lafayette Police Department is devastated by this sudden loss. We ask that you keep Corporal Middlebrook's family and the Lafayette Police Department in your thoughts and prayers.
Accounts have been established in Corporal Middlebrook's name for provide financial relief to his family.
Donation can be made to City of Lafayette Police Department Fallen Heroes Fund through the Community Foundation of Acadiana via the following link--www.cfacadiana.org/LafayettePDFund."
Louisiana State Police say the officer is dead after he was shot by the suspect of an alleged battery at a convenience store at the corner of Moss Street and Van Buren.
The officer got to the scene, and the suspect allegedly started shooting at him. The Lafayette police officer was shot and killed.
Officials say two other people at the scene were shot.
The investigation is still ongoing.
Police were able to track down the person they say is responsible. That man was taken into custody.
More From News Talk 96.5 KPEL