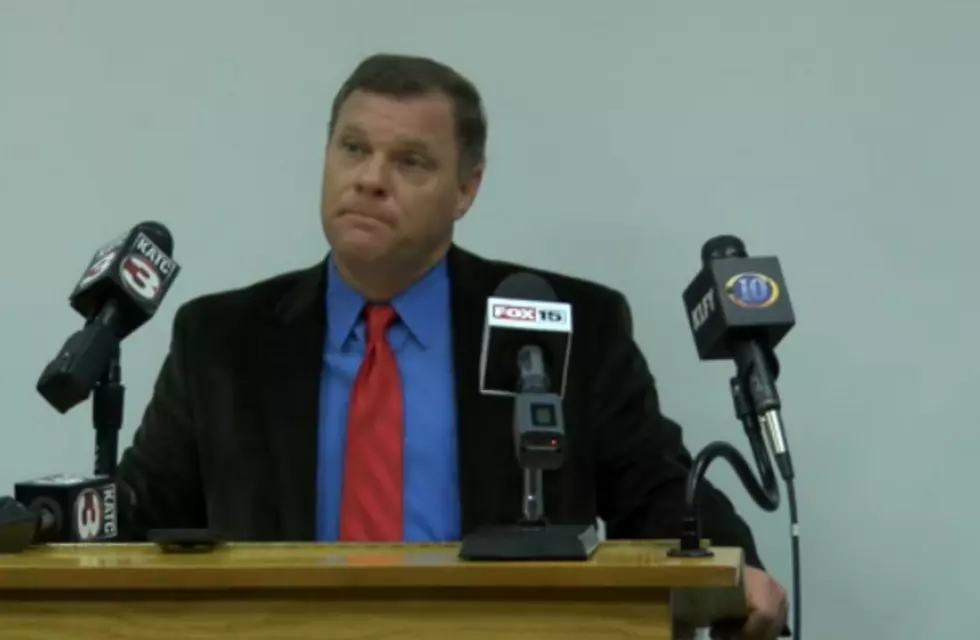 Lafayette Jockey Lot Shooting Suspect Charged With Murder
Kip Judice KATC screenshot of press conference
At a press conference at the Lafayette Parish Sheriff's office today Capt. Kip Judice announced the arrest of a 15 year old in the shooting death last night of 49 year old Michael Patin of Arnaudville.
Deputies were first called to the Jockey Lot on North West Evangeline Thruway at 9:14 Sunday night to investigate an apparent break-in.  As deputies arrived five juveniles attempted to flee in a car that was originally reported stolen last Thursday.  The suspects crashed the car and then attempted to escape on foot.  Lafayette Parish Sheriff's Deputies and the Carencro Police Department set up a perimeter and searched the area with dogs and caught four of the five suspects.
Deputies left the Jockey Lot at 11:05pm but were called back seven minutes later after a report that Michael Patin had been shot.  Patin was taken by Acadian Ambulance to Lafayette General and was pronounced dead on arrival.
The suspected shooter fled in Patin's vehicle and was captured by Lafayette Police officers and Lafayette Parish Sheriff's deputies at 5:47 this morning.  The alleged shooter is a 15 year old and his name is not being released due to his age.  He has been charged with first degree murder.
The other juveniles, ages 12 to 16 were charged with criminal trespassing, unauthorized use of a movable and possession of stolen property.  None of these juveniles are considered to be directly involved in the murder of Patin.
The Sheriff's office investigation is continuing and the involvement of these young men in other crimes remains under investigation.
More From News Talk 96.5 KPEL